Rockin' the IMT Des Moines Marathon
Sunday, October 15, 2006
Two years after completing my first (and definitely last) full marathon I was back, serenading runners from my spot at the luxurious Butler House, 4501 Grand Avenue, near Polk Boulevard.
A Slightly Less Painful Experience (for ME, at least)
Most of you who are acquainted with me know that I've been something of a jogger since 1985. In the late 80s through the mid 90s I could hold my own in a 10K or even a half-marathon, usually finishing somewhere in the middle of the pack. When I hit 40, however, my conditioning went South, and even the five-mile training runs were a thing of the past for awhile. Even in my prime, a full marathon was not something I was remotely interested in subjecting myself to. That craziness was for my little
sister
, not me.
Then, about five years ago, some of the conditioning came back, and I was ultimately able to do an easy 10- or 15-mile run on a Saturday. By 2003, I was able to work myself into good enough shape to run the Des Moines Half Marathon. THEN, on Labor Day, 2004, I got this wild hair up my you-know-what and decided, "Why not?" I strapped on my Nikes and set out to see how far I could run before I collapsed (my previous record, at the age of 31, was 17 miles). I ran up Merle Hay to Beaver, across the Mile-Long Bridge, down the Neal Smith Recreational Trail, then back up 66th to Pioneer Parkway and the last one-mile bike-trail link to my house. Including about two miles I was lost in the woods, I had run a little over 25 miles.
I COULD DO THIS!!
So I paid my $50, got myself a microchip, took the early-bird start (which enables me to say that I managed to stay in front of the ultimate winner for the first 11 miles of the race) and FINISHED the 2004 Des Moines Marathon. I won't say what my time was. I won't say I didn't walk about 5 miles of the course. I won't say that there aren't people who can walk 26.2 miles faster than I "ran" that day. But I sprinted the last 100 yards, and I finished on my feet. So I've been there, and I've done that (see the photo on the right for evidence).
This time I did a different kind of marathon. For the solid 3 1/2 hours of the 2006 IMT Des Moines Marathon I stood belting out John Burns originals for the runners who passed my spot. I was one of dozens of acts set up along the route to make the marathon more than just an excrutiatingly painful (at least in my experience) footrace. Anyone who's done it will tell you that the Des Moines Marathon is a wonderful event. The weather is nearly always beautiful (for running, not necessarily for playing -- the temperature was a challenging 42 degrees when I started playing), the course is relatively flat, and the spectator support is impressive. And nowhere else can one enjoy such a variety of local live entertainment on a Sunday morning in mid-October.
John Burns enjoying the 2004 Marathon as a runner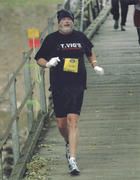 Marathon Travel Arrangments
By the way, if you're coming to Des Moines for the Marathon, and need some good advice on making travel arrangements at the best prices, check out Des Moines Marathon Hotels.
"I'm Gonna Run" by John Burns