The John Burns Photo Gallery
Click on images to enlarge
Back around 1970, my little sisters and I donned some groovy threads and jammed on some really fab tunes.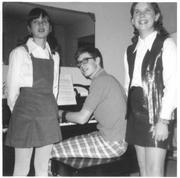 February 11, 1974 -- The Senior Talent Show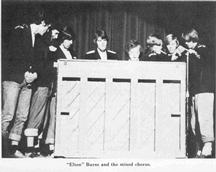 The Talent Show was the first performance of my original songs. I opened with "Raw Spaghetti Doesn't Bother Me (but You Are My Onion)", and then was joined by the All-Star Chorus for "The Ain't No Woman Gonna Get My Job Blues." The audience response convinced me to never play that second song again.
Now and Then -- my first band.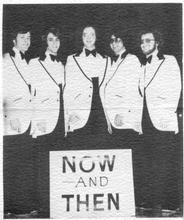 Steve, Tony, Perry, Danny and Me. We played the Wakonda Club, the Val Air Ballroom, the Car Show, the Millersburg High School Senior Prom, and were the house band for four months at the Payton Place Lounge behind Firestone on Sixth Avenue.
My Sister Mary's Wedding, Torrey Pines, California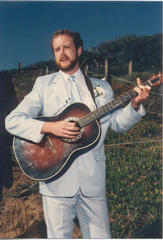 I wrote and performed songs for both of my sisters' weddings, but when I got married the priest said, "No love songs."
Playing at my own wedding reception.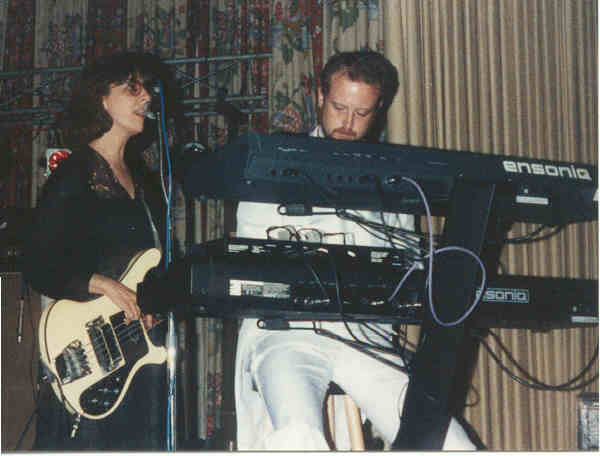 My brother-in-law's band, Sterling Heist, actually played our June 9, 1990 reception. But for the last set Baby Lester, Donna and I (three-fourths of Baby Lester and the Buggybumpers) played with Sterling Heist's Mike Lawyer on drums. It was the first time in 13 years that we performed together. In 2005, Baby Lester, Steve Wilkinson (the drummer from Baby Lester and the Buggybumpers) and I reunited to play at a wedding at the Summerset Winery in Indianola. Joe Hernandez played bass, and Tim Ross-Boon joined us on rhythm guitar and vocals.
My best man at my reception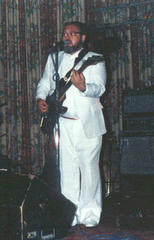 Baby Lester was two months shy of turning 40.
Goodnight Dallas at the B & B in 2003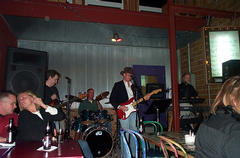 One of our last performances together. At this point we had Mac Stanfield on bass. The drummer, Craig Hatler, and Professor Robert R. Rigg, the guitar player, and I had been together from the band's beginning in 1997. Others who had been part of Goodnight Dallas during its seven-year run included Tom Schlapkohl, Jamie Bowers, Mary Pat Gunderson, Donny Guisinger, Kevin Hanson, the late legendary bassist Jim Faur and the famous Clarence Key, Jr.