"Dreams From My Father"
My Tune About History Being Made
Late one summer, years ago, on a week-long trip to California, I read a book that had been written several years ago by a recent Harvard Law graduate. The author was born in Hawaii and raised by a single mother and his maternal grandparents. He spent one segment of his youth living in Indonesia with his mother and her new husband.
The young man entered young adulthood struggling with questions about his ethnic identity and about his absent father, who he met only once during his adolescence. Midway through his undergraduate years, the author began to develop a sense of purpose in his life and finished his degree at Columbia. He worked for about a year on Wall Street, until he heard the call to move to inner-city Chicago. For three years, he served as a grassroots community organizer working to develop training programs for unemployed workers.
Ultimately, the author realized that he had the potential to do more, and applied and was accepted into Harvard Law Review, where he was elected the first African-American president of its prestigious law review.
Before starting at Harvard, however, the author took it upon himself to travel to Kenya, the birthplace of his father, to endeavor to understand his father and his heritage.
Barack Obama
Even if the author of "Dreams From My Father" had no other accomplishment in his life outside of writing the book, the quality of its writing and the compelling story it tells would make it a work that should be required reading in any contemporary American History classroom.
But two months before I read it, I had my first opportunity to hear Senator Barack Obama speak, in Beaverdale on the Fourth of July. It took no time at all to be drawn in, and for the next six months I joined tens of thousands of other Iowans knocking on doors, making phone calls and shouting down supporters from other campaigns at rallies.
The January 3, 2008 Iowa Caucuses
The months of December and January in the Winter of 2007-08 may not have been the coldest in recorded history, but they sure felt like it. But for the final few weeks leading to the Iowa Caucuses, tens of thousands of us took days off work and hit the streets. It worked. Caucus turnout was off the charts. My precinct usually draws a hundred or so attendees. We expected over 300. We got over 700. It was that way everywhere.
What we did was show the rest of the country that it could be done. There were many hard-fought battles in the five months that followed, but WE WON THE FIRST!
"Dreams From My Father" -- the song
Inspired by this magnificent piece of literature, I wrote this song. One of the coffee houses at which I frequently performed in the months leading up to the Iowa Caucuses is located in Des Moines East Village, across the street from the Obama headquarters. When I would perform this piece there, I told his staff workers (who, by the way, formed the best political organization of any election campaign I have ever been involved with) that the first of them who could produce evidence to me that they found a way to have Senator Obama listen to my song would receive an autographed copy of my book (a $115 value).
No one has taken me up on that to date.
As I say when I perform this song, it's not a campaign song. It's not "Vote for Obama". It's my attempt to capture the story.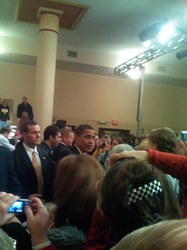 Senator Obama working his way over to shake my hand